Iron Maiden Discography – Part 4
di Alessandro Alviti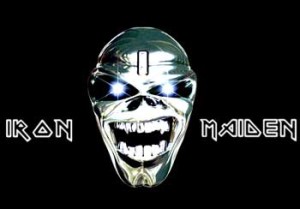 Mi accingo a recensire i miei due album preferiti dei Maiden, quindi ammetto che sarò un po' di parte… 😉 Siamo nella seconda metà degli anni '80 e i Maiden, all'apice del successo, sfornano due album in due anni che saranno copiati e riletti negli anni a venire da moltissimi combo ispirati al metal, al prog-metal e al power. L'introduzione delle tastiere, inoltre, inserisce nelle loro opere quello sfondo semi gotico che fa da perfetto sfondo a storie sempre più impregnate su eroiche gesta del passato od a leggende intrise di sangue e horror.
1986 – Somewhere in Time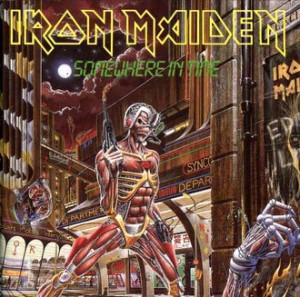 L'album è negli anni caduto un po' nel dimenticatoio, forse della serie eighty con Dickinson frontman, quello che ai fans più longevi piace meno.
Additato dai più come troppo commerciale o di facile ascolto, o magari proprio perchè privo di quei brani entrati nella storia del gruppo come classici senza tempo, presenti ad esempio nel successivo album e qui assenti.
Così recensire quest'album appare più difficile, ma non per me che lo adoro, considerandolo in assoluto tra i primi tre preferiti di sempre della discografia dei Maiden.
Si apre con una travolgente Caught Somewhere in Time, brano molto lungo, col ritornello ruffiano, ma trascinante nelle viscere. Da urlare a squarciagola, ma particolarmente intricato negli stacchi che rasentano il prog.
I brani sono in media un po' più lunghi, secondo me, e proprio l'assenza di classici denota che la band abbia composto lontano dal concetto che il brano sarebbe dovuto diventare a tutti i costi una hit.
Difficile anche pensare che, dopo un trittico mostruoso come gli album precedent,i la band avesse potuto estrarre dalla propria vena creativa altri successi a quel livello. Quanto sentito in Powerslave viene portato più in alto a livello tecnico: la band suona più diretta, più spazio per i soli.
Bellissimo quello sulla successiva Wasted Years (che come singolo non ha avuto grandissimo successo), intricatissima la ritmica di Sea of Madness che cala un po' nel bridge, ma anche qui una bellissima serie di "assolo" che riportano il brano su un cambio molto particolare e azzecattissimo.
Insomma, a livello chitarristico solistico, il mio album preferito in assoluto!
Heaven can Wait è forse il brano più celebre, con la sua parte centrale di chitarre "cantabili". Stesso tentativo nella successiva The Loneliness of the Long Distance Runner che per alcuni versi preferisco.
Qui troviamo però più importante la presenza dei tappeti di tastiera, dei quali parlavo in precedenza, eppoi un solo particolare, molto spinto il primo (penso Smith, più Gibson oriented) più fluido il secondo.
Ritmiche serrate, riff intricatissimi (va bene i ritornelli cantabili) ma questo album è tutt'altro che scontato e commerciale!
Capitolo a parte per la monumentale Alexander the Great. La suite conclusiva dell'album diventata ormai un must per ogni LP dei Maiden: questa volta narra le gesta di Alessandro appunto, una lunga intro marziale/bolero in crescendo, superbo intreccio di riff di chitarra. Prima pulito poi distorto poi il riff lanciato e corale aprono alla voce di un Dickinson al massimo della forma.
La parte centrale strumentale è molto prog, mi piace molto il suono cunch della chitarra solista, poi un stacco ultra solenne, degno di un'entrata a corte!
Purtroppo nei live moderni questo album non viene praticamente mai eseguito. Assolutamente da rivalutare e riascoltare più volte!
Somewhere in Time Tracklist:
1. Caught Somewhere in Time (Harris)
2. Wasted Years (Smith)
3. Sea of Madness (Smith)
4. Heaven Can Wait (Harris)
5. The Loneliness of the Long Distance Runner (Harris)
6. Stranger in a Strange Land (Smith)
7. Deja Vu (Murray/Harris)
8. Alexander the Great (Harris)
Line-up
* Steve Harris – Basso
* Dave Murray – Chitarra
* Bruce Dickinson – Voce
* Niko McBrain – Batteria
* Adrian Smith – Chitarra
1988 – Seventh Son of a Seventh Son

« Seven deadly sins
Seven ways to win
Seven holy paths to Hell
And your trip begins
Seven downward slopes
Seven bloodies hopes
Seven are your burning fires
Seven your desires… »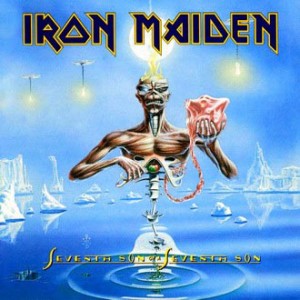 Siamo di fronte all'unico concept-album dei Maiden, da molti considerato come l'ultimo grande album della band.
La fine di un'epoca, quella che vede l'abbandono da parte di Adrian Smith alla chitarra (tornerà nella grande reunion del 2000).
L'uso di tastiere e chitarre synth si fa sentire maggiormente e sposta l'album su un piano più prettamente prog (il tutto mi riporta ad un altro grande concept dell'epoca dal quale presumo i Maiden siano stati almeno in parte influenzati: Operation: Mindcrime dei Queensryche).
Brani storici: sicuramente la onnipresente nei live Can I play with Madness (primo single dell'album e di grandissimo successo) e la trascinante The Evil That Men Do, dove McBrain tira fuori tutte le sue doti di grande batterista con una delle più celebri cavalcate di grancassa, ma eseguita con un solo piede!
Menziona d'onore alla title track, suite immancabile, stavolta posta perfettamente al centro dell'album, e la celeberrima The Clairvoyant, altra hit da live molto veloce, con un riff geniale, tra i miei preferiti in assoluto.
Dickinson è al top dell'espressione vocale, Harris continua a sfornare pezzi geniali, coadiuvato da un Nicko strepitoso alle pelli (per me il suo miglior album). La produzione ed il mixing dei suoni è molto buono, ma molto meno duro e d'impatto rispetto al passato.
Insomma più pieno ma meno granitico, anche se dal vivo le tastiere vengono surclassate dalla potenza delle valvole ed appaiono decisamente più metal di quanto non appaiono nella versione da studio.
Piccola parentesi per un plauso alla bellissima copertina, una delle più azzeccate e storiche!
Seventh Son of a Seventh Son Tracklist:
1.Moonchild (Smith/Dickinson)
2. Infinite Dreams (Harris)
3. Can I Play with Madness (Smith/Dickinson/Harris)
4. The Evil That Men Do (Smith/Dickinson/Harris)
5. Seventh Son of a Seventh Son (Harris)
6. The Prophecy (Murray/Harris)
7. The Clairvoyant (Harris)
8. Only The Good Die Young (Harris/Dickinson)
Line-up
* Steve Harris – Basso
* Dave Murray – Chitarra
* Bruce Dickinson – Voce
* Niko McBrain – Batteria
* Adrian Smith – Chitarra