Zoom G3 Patches: Collection 1 (updated)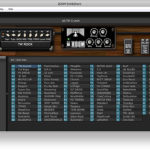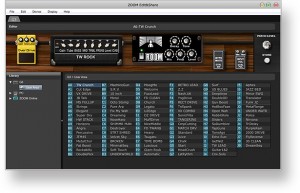 Aggiornate per essere usate con Zoom G3 Firmware Versione 2.0 e Zoom G3X
Dopo un paio di mesi in cui ho preso confidenza con il nuovo Zoom G3 sono riuscito a mettere insieme il primo gruppo di Patches con i suoni che uso piu' spesso. A me piacciono i suoni semplici e classici, puliti e crunch, con delay e reverbero, non mi piacciono i suoni high gain moderni e mal sopporto le modulazioni. Questa prima collezione di 12 patches racchiude suoni ottenuti con le simulazioni di ampli che preferisco settate secondo i miei gusti con la giusta quantita' di affetti di ambiente. E' la prima raccolta, ne seguiranno altre. Funzionano bene sia con pickups Single coils che con Humbuckers e  sono per uso "Direct"
Updated to be used with G3 Firmware Version 2.0 and G3X
After a couple of months tweaking the new Zoom G3, I collected the first group of patches for the sounds that I use more often. I like classic sounds, clean and crunches with delays and reverbs, not too much modern high gain and I seldom use modulation effects. These 12 patches are based on my preferred amp simulations. This is the first collection and others will follow soon, they work pretty well with single coils and humbuckers and are intended to be used "direct"
Tutte le patches sono contenute nel file ZIP che potete scaricare dal link qui sopra, una volta scompattato il file troverete i file con estensione g3xp che possono essere importate con il software Edit and Share. Queste patches erano state create con la versione originaria del firmware che permetteva solo tre slot, sono state aggiornate per essere usate con il nuovo firmware 2.0 ma sono sempre composte usando tre effetti per patch, di fatto ora hanno tre slot in bypass vuoti in cui potete aggiungere  altri effetti a vostro piacimento. Sto facendo anche una raccolta con patches modificate aggiungendo altri effetti a queste.
All the patches are included in the ZIP archive you can download from the above link. Once you have unzipped the files you will find the files with extension g3xp that you can import using Edit and Share. THese Patches have been created using the original version of the firmware so are limited to 3 effect slots, I have updated them to be used with version 2.0 but they are still made using only 3 effects per patch, so you will find in each one 3 slots actually in bypass mode where you can insert other effects. I am also working on a new collection based on this adding more effects on each patch.
BstVXDel.g3xp

Simulazione di Vox al limite del pulito con clean booster e delay settato sull'ottavo puntato, Se usato con Strato e o Tele il gain risulta piu' basso che con una Les Paul. Buono per arpeggi e accompagnamenti puliti e soli puliti con il booster inserito
Vox Simulation at the limit of the break-up, with a clean booster in front and dotted height Dealy, it is good to be used for clean arpeggios and light strumming, and for clean leads just with the booster on
FDCDelRev.g3xp

Suono pulito, il reverbero Hall e' il mio preferito, con un decay non troppo lungo e il tono un po' scuro. Lo stereo delay e' fantastico, sono due delay paralleli sui due canali destro e sinistro completamente indipendenti, ho settato le ripetizioni sull'ottavo puntato a destra e sui quarti a sinistra.
This is a Clean Sound with the Hall Reverb, that is my favorite, with not too much long decay and  a little darker tone. Stereo delay is amazing, two parallel independent delays on the 2 stereo channel, on the left it is a dotted height delay and on the right I set a quarter note rep.
FDVDelRev.g3xp

Anche questo e' un suono pulito, la simulazione FD Vibro e' piu' calda della FD Combo, sempre con reverbero Hall e un delay analogico sull'ottavo puntato
Also this is a clean sound, the FD Vibro simulation is warmer than FD Combo, in combination with the Hall Reverb and the analog delay is great!!
FzHWDel.g3xp

Un tipico suono lead alla Gilmour, con Big Muff e Hiwatt a manetta e delay Tape (tipo vecchio Binson).
Typical Gilmour Lead Tone, with a fat Big Muff into a Clan Hiwatt and dotted height delay
M30DelRev.g3xp

Suono Clean sempre con Delay e Reverbero
Another nice Clean Sound with Delay and Reverb
MSDelRev.g3xp

Crunch!!! Suono Marshall classico per Rock, buono per accompagnamenti e assoli
Nice  Marshall Crunch for rhythm  and lead.
OdMSRev.g3xp

Ancora il classico Crunch Marshall ma con un Overdrive a spingere, per ritmiche in power chord e per assoli
Marshall Crunch but saturated with an Overdrive pedal in front, more gain for power chords and leads
OdORDel.g3xp

Crunch Orange con overdrive a spingere e digital delay, anche questo va bene per ritmiche in power chords e assoli, sempre un suono british ma differente dal Marshall
Typical Orange Crunch with a classic overdrive in the input to push the gain, good for power chords and lead.
OdTWDel.g3xp

La simulazione TW Rock dello Zoom e' la mia preferita, va dal pulito fino all'high gain e rimane usabilissima in tutto il range, armonicamente e' molto ricca e strutturata. Questa patch permette di avere un suono saturo che inserendo l'overdrive diventa bello spinto e sostenuto
The TW Rock simulation is the best among the ones available in the G3, it can goes from clean to high gain and it is very usable in all its range. This patch feature a saturated clean, almost break up, that can be pushed further with the Overdrive.
TWDelRev.g3xp

Il miglior settaggio per questa simulazione TW Rock, un crunch potente e cremoso per ogni uso
This is the best setting for the TW ROCK simulation, it is a fat and creamy crunch sound that is absolutely fantastic for everything.
USDelRev.g3xp

Un suono Fender Tweed pulito e caldo
A typical Tweed Clean sound
VXDelRev.g3xp

Un Classico pulito Vox
A Classic Vox Clean Sound