Zoom G3 Patches: Collection 2 – Modulation and Ambient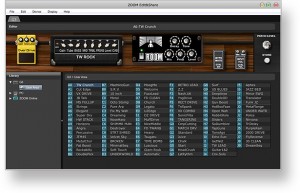 Una nuova collezione di 5 patches che non usano le simulazioni di ampli dello Zoom G3, ma solo effetti di modulazione ed ambiente. Queste Patches possono essere usate andando in diretta in un PA con una chitarra acustica, usando pedali overdrive e distorsori esterni prima dello Zoom G3, o inserendo lo Zoom G3 nel loop effetti dell'amplificatore usando il pre di quest'ultimo. Pur avendo 6 slot a disposizione ho potuto constatare che spesso non e' necessario usarli tutti per ottenere un buon suono e quindi alcune patches usano solo 4 slots e la numero 5 ne usa addirittura solo 2.
This is a new collection of 5 patches that are not using the Amp simulations of Zoom G3 but just Modulation and Ambient effects. These patches can be used to go direct into a PA with an acoustic guitar, using external overdrive and distortion into the Zoom, or using the Zoom G3 into the effect loop of the amp. Despite the possibility to use 6 slots I have found that it is not necessary to use them all to get a good sound, so some patches use only 4 slots and the patch number 5 even use only 2 slots.
Dal link qui sopra potete scaricare un file zip contenente i files con estensione g3xp che possono essere importati nello Zoom G3 con Edit and Share.
From the above link you can download a zip files containing the 5 files with the extension g3xp that you can import into the Zoom G3 with Edit and Share
ModAmb1.g3xp

I use this patch with my acoustic guitar. The compressor is adjusted to give more sustain, but you can deactivate it if no needed, then you can select alternatively flanger or chorus that have the "mix" quite low to give some shimmering modulation without effecting too much the sound. Tape Echo on the dotted eight (so use the TAP button to set the repeat according to the music beat)
ModAmb2.g3xp

Also this patch work very well with acoustic guitar, but also with external preamp/overdrives or in the effect loop. I like a lot the Univibe of the Zoom.
ModAmb3.g3xp

Again a compressor and a variation on the modulation and delay section. The Hd Reverb is amazing, I think the "Hall" reverb is more suitable for sounds that need just some ambience, but when you want to "listen" to the reverb the HD is the one to use.
ModAmb4.g3xp

Another variation on the theme of modulation and ambience.
ModAmb5.g3xp

And at last the minimalistic one. Just the Vintage CE and the HD reverb. Less is More