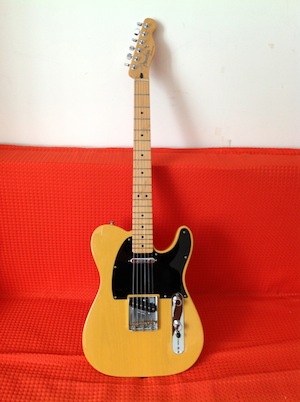 Last week I had the chance to get this guitar. I was looking for some information on internet in the weeks before but very little is available on this specific instruments so I think that write a short review in English could be useful for who is interested and cannot read italian. FSR model are Fender Limited Editions usually "out of the catalogue", are even not listed in the Fender web site, generally manufactured only for some special dealers in US (Guitar Center or Musician's Friend) or like this one for worldwide distribution but also in limited numbers and available only in selected dealers. The Telecaster FSR 2011 is a great Butterscoth Blond, black guard with "Vintage" specs at a very reasonable price. Let's go deep into the review.
Let's start to say that this telecaster is a Made in Mexico product, It is not a Made in USA, I just specify this but for me it is not an issue, I already have a Stratocaster Classic 60 Made in Mexico and i Love it. Body is ASH wood, i cannot see clearly how many pieces but be sure it is not the wood sandwich of the Standard and Deluxe Series, maybe 3-4 pieces. The finish is a thick layer of Poly, and maybe it is the only negative aspect of this guitar, it is THICK, but is slightly transparent so it allow the nice grain of the ash to be seen and appreciated (the effect is nice!!)
The single ply black pick-guard, is not very nice, maybe is going to be replaced with a bakelite one.
Under the pick-guard the cavities are shielded with conductive paint and this is a good point. the neck route is for humbucker pickup, so it is a good platform for mods. The controls are wired in a good way, large pots are used and the 3-way selector seems sturdy and good quality.
One of the peculiar feature of this guitar is the reverse control plate that provide a better layout to keep volume pot more accessible (for volume swell etc.)
The bridge is the classic 3-saddle standard, good enough, no need for exoteric aftermarket replacements, maybe compensated saddles can be a good upgrade. I just want to highlight that in my guitar seems that the hole, for the low-E string, in the steel plate is not correctly aligned with the hole in the body, but there is enough room for the string to pass, and i believe this fact has not any influence on the sound.
The neck is very nice, Urethane glossy finished, Modern C shape and tinted. Fretboard is 9.5″ radius  and the frets are medium jumbo, very nice, comfortable,  and easy to play. Standards sealed tuning peg are installed on the headstock, maybe Kluson vintage type was a better choice according to the other specs, but anyway they are good.
According to the specs, the pick ups are "Alnico III Hot" that are the same installed on the highway series. This feature was the one I was looking in the new Tele, I was looking for a Tele with fat, hot sound, less twangy than my Squier Classic Vibe Custom, actually I always liked the Classic Vibe 50 with alnico III pickups but I was also in love of the butterscotch blond finish. I was prone to buy a Classic Vibe 50 in BSB color (that has the same Alnico V pickups of the Custom)  and change the pickups on it for a set of Texas Special, but here in China is still not sure if this squier will be available and adding the price of the pickups take the budget close to the FSR, so I decided for the Fender one. These pickups are just what I was looking for, making this axe perfect for classic rock and blues, with overdrive and distortion are singing with a well defined sound, no muddy at all, on clean sound are very fat and punchy, keep the Highway One Telecaster in mind for reference.
I took the guitar to a technician for a setup after changing the o.09 strings with my favorites 0.10, he adjusted the nut, octave intonation, and neck relief and now the guitar is perfect!!
Why I choose this Tele and not the Highway One or the American Special? ok, one point is the BSB color!! but mostly because these other two series have big jumbo frets that i don"t like too much, I prefer the medium jumbo.
Just to summarize,  this Tele is a lot of value in a small budget. Overall quality is in the line with Classic and Classic Player series of the Made in Mexico products, I still think that Squier Classic Vibes on some points are better, but recently i tried many CV 50 and Thinlines and generally I have found worst guitars than the Custom I bought (fretwork not so clean, random pickups problems, etc). If you are looking for a Butterscotch Blonde Tele on a budget I think the right choices are the Squier Classic Vibe (but I think you have to add some upgrades on it) or this FSR 2011 that is perfect how is coming from the factory, and in case you plan anyway some mods this is a good base where to start.
This is a video of the Telecaster FSR 2011, it's one of the few available on you tube, but I think it is quite representative of the guitar and it's sound
Specifications
Body: Ash
Finish: Polyester
Neck: Maple, Modern "C" Shape, Tinted Gloss Urethane Finish
Fingerboard: Maple, 9.5" Radius (241 mm)
Frets: 21 Medium Jumbo
Scale length: 25.5" (648 mm)
Nut Width: 1.650 (42 mm)
Hardware: Chrome
Tuning Keys: Standard Cast/Sealed Tuning Machines
Bridge: Vintage Style 3-Barrel
Pickguard: 1-Ply Black
Pickups: Hot Tele Single-Coil Bridge Pickup with Alnico 3 Magnets
Hot Tele Single-Coil Neck Pickup with Alnico 3 Magnets
Pickup Switching: 3-Position Blade:
Position 1. Bridge Pickup,
Position 2. Bridge and Neck Pickups,
Position 3. Neck Pickup
Controls: Master Volume, Master Tone
Strings: NPS, (.009 to .042 Gauges)
Incl. Accessories: Standard Gig Bag
Unique features: Gloss Neck, 50's Style Logo, Reverse Control Plate